How to care for your rug
You'll be pleased to know that all our handmade rugs offer excellent durability, including the hand-knotted rugs which are of heirloom quality and are designed to last a lifetime and more. With just a little care, your Wendy Morrison Design rug can stay looking its best for many years to come.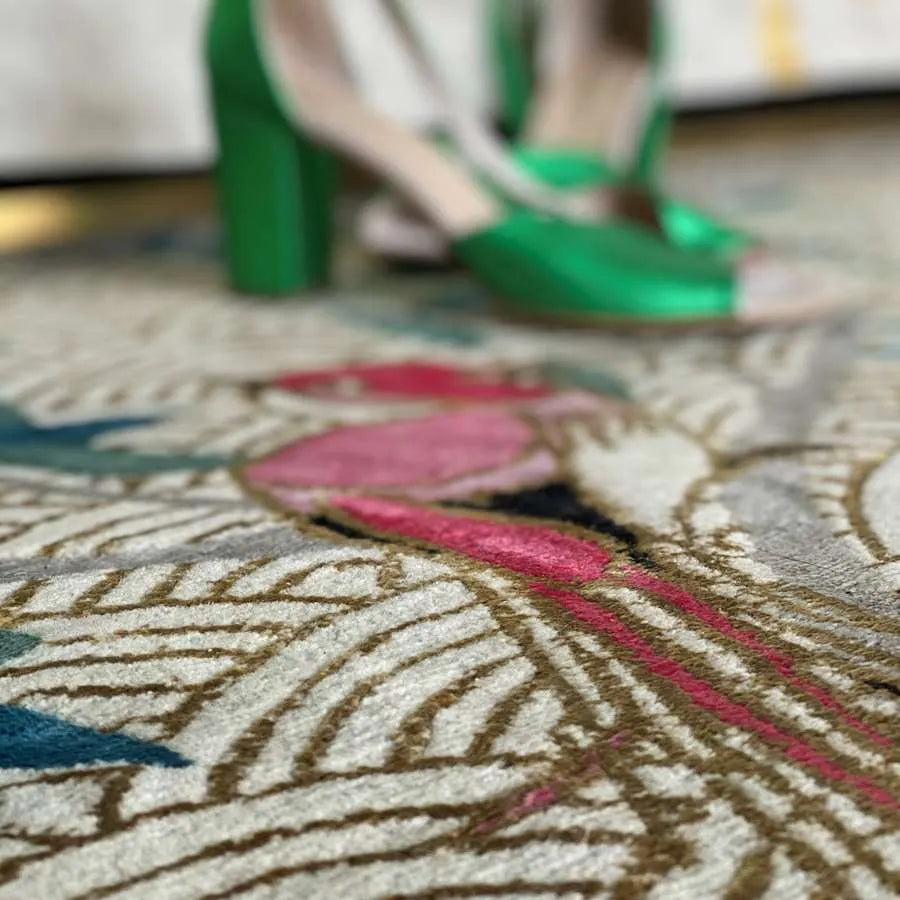 Vacuuming and fluff
It's perfectly normal for the pile of your new rug to lose some surplus fibres at first. Fluff on the surface of your rug is nothing to be alarmed about, it's simply the natural result of the yarn being compressed when your rug is handmade.
Vacuuming occasionally will help reduce any excess pilling and the yarns should settle over time. If your vacuum has variable power settings, select the lowest setting, use suction only and avoid using a cleaner head with brushes as this can cause damage. It's best to vacuum the full length of the rug, turning, then repeating on the next area, rather than a back and forth motion. Don't brush your rug as this can force more fibres out.
Loose yarn thread
From time to time a yarn tuft may work loose from the rug and stand out from the surface. Don't worry, this isn't a sign of damage to your rug and can be solved by simply cutting the thread using a sharp pair of scissors to the even height of the rug pile. Don't pull any loose threads as this may encourage more to work loose.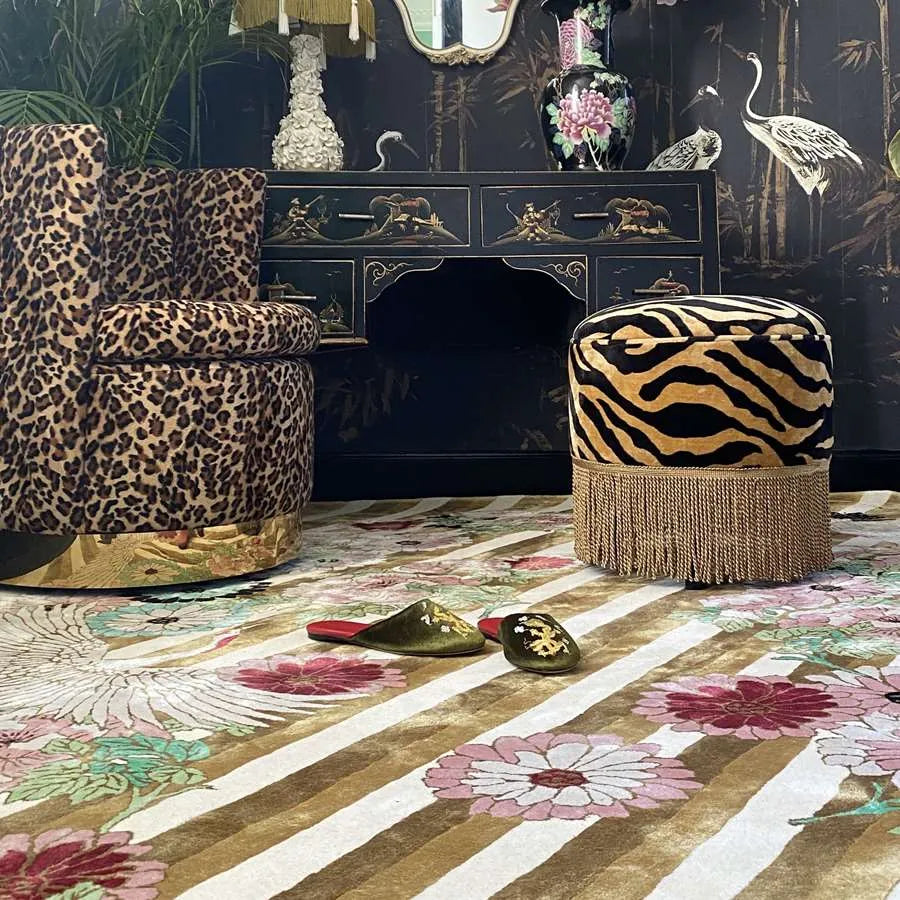 Dealing with spills and stains
If you spill something on your rug, the golden rule is to act fast. The longer it's on the rug, the harder it can be to remove. Don't let it dry first. Immediately blot up any liquid spillage with a clean, dry cloth or kitchen paper towel, without rubbing. Keep blotting until your cloth comes back dry.
If there's a stain to remove, never use bleach. On our hand-tufted wool rugs, always use a professional wool-safe cleaning product that's designed for carpets. It's a good idea to test the cleaner on an inconspicuous area of the rug first. Use a fresh, clean cloth and apply just enough cleaner to the stain. Be careful not to over-wet your rug and gently work from the outside of the stain inwards. Do not rub.
Gentle cleaning for wool and silk rugs
Silk is a beautiful material with a lustrous finish, so naturally, it's important to take care when cleaning. If there's a stain on your hand-knotted wool and silk rug, never use a chemical based cleaner as this will damage the colour and material. Just use cool soapy water – made up from a diluted solution of a Ph neutral soap, such as a silk or wool hand-wash laundry liquid. Apply enough to cover the stain using a soft clean cloth. Then blot excess liquid up gently with a dry, clean towel or kitchen paper towel.
For stubborn stains or when you want an overall clean, we recommend professional rug cleaning.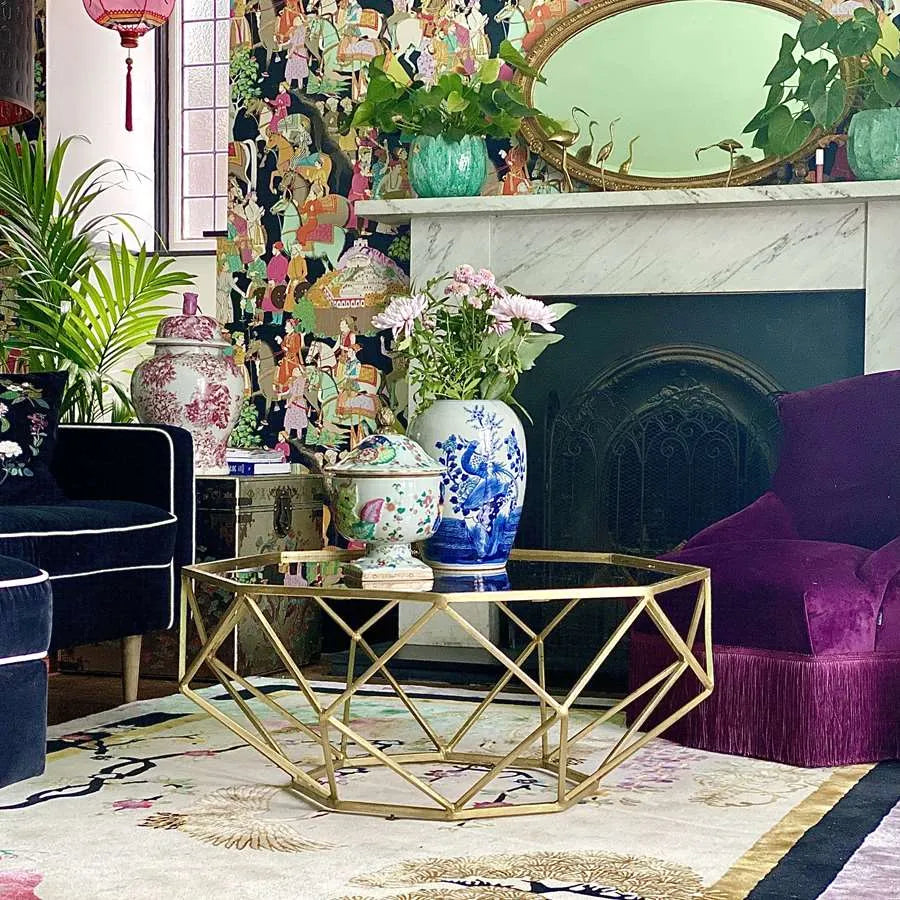 Colour fastness
We select only the best dyes and all our rugs are tested for colour fastness. Colours may show a slight change of no more than 5% when professionally cleaned.
No dyes are completely resistant to fading in sunlight. If your rug is left in strong sunlight for long periods, it will fade naturally over time. Rotating your rug can mitigate this effect, ensuring any fade is even.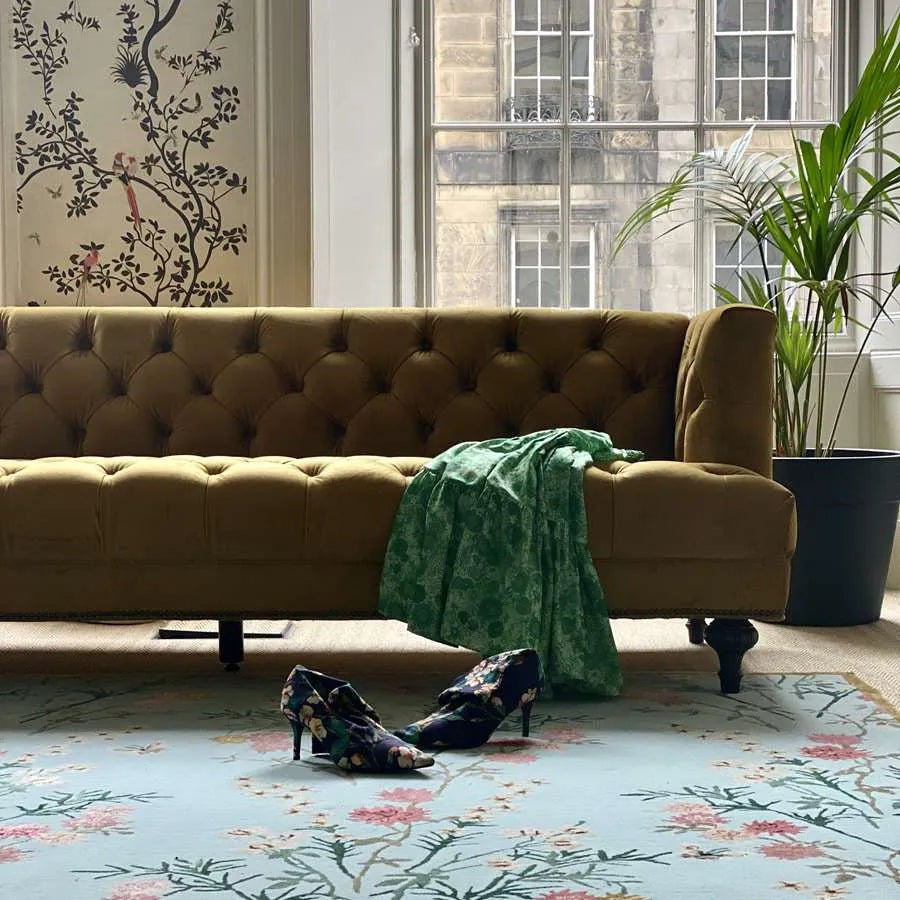 Underfloor heating
We would advise placing quality underlay beneath your rug should you have underfloor heating in you home. Underfloor heating could cause damage to your lovely rug and it would therefore benefit from an additional layer of protection.
"One of the best things about a rug is that you can move it between rooms – instantly changing the feel of a room. I also make sure to rotate my rugs regularly. This helps to maintain the pile and reduce the chance of over-wear in a certain part of the rug."
Everyday maintenance secrets
vacuum occasionally
use castors under legs of furniture to help prevent dents
lay a non-slip underlay under your rug
rotate your rug from time to time for even wear
protect your rug from strong, direct sunlight
That's all it takes, simply follow these tips and your rug will continue to look its best for years to come.
Art for your floors is worth looking after.